46
NEONATAL AND PAEDIATRIC SURGERY ACROSS SUB-SAHARAN AFRICA: A MULTI-CENTRE PROSPECTIVE COHORT STUDY
Naomi Wright
1
, Emily Smith
2
, Luc Malemo
3
, Jacques Fadhili-Bake
3
, Elisee Bake
3
, Bertille Ki
4
, Albert Wandaogo
4
, Bernadette Bere
4
, Sharon Cox
5
, Lofty John Chukwuemeka Anyanwu
6
, Aminu Mohammed
6
, Lawal Abdullahi
6
, Collins Nwokoro
7
, Aderibigbe Shonubi
7
, Niyi Ade-Ajayi
8
, Kokila Lakhoo
9
, Emmanuel Ameh
10
, Dan Poenaru
11
, Andrew Leather
1
, PaedSurg Africa Research Collaboration
1
1King's Centre for Global Health and Health Partnerships, School of Population Health and Environmental Science, King's College London, London, United Kingdom. 2Baylor University, Texas, USA. 3HEAL Africa Hospital, Goma, Congo, the Democratic Republic of the. 4Charles De Gaulle Pediatric University Teaching Hospital, Ouagadougou, Burkina Faso. 5Red Cross War Memorial Children's Hospital, Cape Town, South Africa. 6Aminu Kano Teaching Hospital, Kano, Nigeria. 7Olabisi Onabanjo University Teaching Hospital, Sagamu, Nigeria. 8King's College Hospital, London, United Kingdom. 9John Radcliffe Hospital, Oxford, United Kingdom. 10National Hospital, Abuja, Nigeria. 11McGill University, Montreal, Canada
Abstract
Background: Sub-Saharan Africa (SSA) has the highest unmet need for surgical care in the world with an estimated shortfall of 41million cases/ year. Children constitute up to 50% of the population yet there is limited research on neonatal and paediatric surgery from the region.
Aim: To undertake the first large-series multi-centre prospective cohort study comparing outcomes of five common neonatal and paediatric surgical conditions between SSA and high-income countries (HICs).
Methods: Data was collected using REDCap on all patients presenting primarily with gastroschisis, anorectal malformation, appendicitis, intussusception and inguinal hernia over a 1-month period of collaborators choice between October 2016 and April 2017. Primary outcome was all-cause in-hospital mortality; secondary outcomes included post-intervention complications. Differences between observed outcomes in SSA and published benchmark data from HICs were compared using Chi-squared analysis and Fisher's exact test. Multivariate logistic regression analysis was used to identify factors affecting outcomes. p<0.05 was deemed significant.
Results: 220 collaborators from 76 hospitals in 23 SSA countries participated in the study. 1407 patients were included: 111 with gastroschisis, 188 with anorectal malformation, 250 with appendicitis, 225 with intussusception and 633 with inguinal hernia. Mortality was significantly higher for all five conditions in SSA (10.02%) compared to HICs (0.65%) p<0.0001 (Table 1). Mortality was significantly associated with gastroschisis, male gender, ASA Score 3-5, anaesthetic nurse compared to doctor anaesthetist and receiving a cross-matched blood transfusion. Overall, surgical site infection rate was 12.5%, wound dehiscence 3.6% and need for re-intervention 6.7%.
Conclusion: This is the largest prospective cohort study of common neonatal and paediatric surgical conditions across SSA highlighting the need for enhanced children's surgical services and incorporation of children into National Surgical Plans being developed.

Table 1: A comparison of the mortality rates of neonatal and paediatric surgical conditions between sub-Saharan Africa (SSA) and high-income countries (HICs)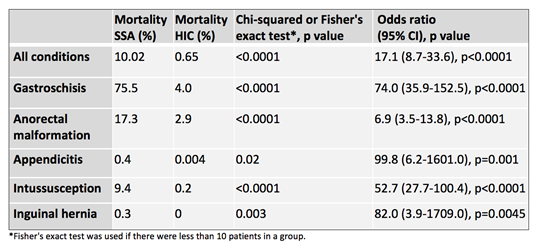 Website
Yes