AIM OF THE STUDY
cAMP response element-binding protein (CREB) is widely described as a fundamental regulator of neuronal cells and neuronal progenitor stem cells in terms of proliferation, differentiation and survival. Mutation of CREB gene was also observed in patients affected by the Hirschsprung disease[1], caused by failure of neural crest cells to colonize the distal bowel.
cAMP upregulation was previously shown to promote the appearance of neuron morphology in mesenchymal cells[2].
The aim of the study was to investigate the role of CREB in the transient formation neuron-like tracts in human chorion derived mesenchymal cells (hCMC).
MATHERIAL AND METHODS
hCMC were isolated and expanded from term placenta's chorion. Their plastic potential was demonstrated differentiating adipocytes and osteoblasts. Intracellular cAMP concentration was increased using forskolin. NRG expression was analysed by IHC. Naphtol AS-E phosphate (KG-501) was used as a specific CREB inhibitor.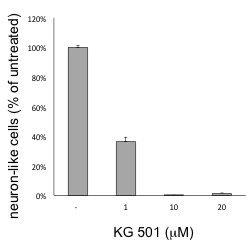 RESULTS
Forskolin promoted the expression of neuregulin 1, a protein involved in synaptic plasticity and in Hirschsprung disease[3]. The increase of cAMP induced the transient appearance of neuron-like traits in a subset of cells. KG-501 prevented the effect of forskolin (see figure) producing a dose-dependent inhibition of the morphologic effect.
CONCLUSION
cAMP likely primes the initiation of transcription programs related to neuron progenitors. For a subset of cells the effect culminates in the appearance of a neuron-like morphology that is strictly related with CREB activity.
REFERENCES

1 Isidor, B., et al. (2010) Am. j of med. gen.. Part A 152A, 1847-1848
2 Kim, S.S., et al. (2005) Neuroreport 16, 1357-1361
3 Gui, H., et al. (2013) Hum Genet 132, 591-600